ConvertaStep
 Welcome Mat    -   COMING SOON!
Our Welcome Mat provides instant access! For structures with thresholds of 1" to 8", Wolfe Mobility offers ConvertaStep's "Welcome Mat Ramp." When not in use, the carpet covered ramp lies flat and serves as a door mat. This ramp comes in a manual or a powered version that operates with a wireless remote. Simply pull a lever or push a remote button and the door side of the mat raises to make a ramp. The durable ramp surface is covered with a variety of carpet colors for an attractive style.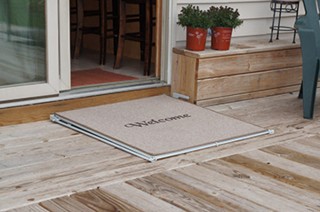 The following 15 second video shows how to lower and then raise the Welcome Mat.