Vehicle Lifts and Mobility Solutions
Freedom without limitations
Do what you want, where you want, when you want.
FREEDOM WITHOUT LIMITATIONS
 Vehicle Modifications * Home Solutions
Wolfe Mobility is committed to offering you reliable and quality products. From coast to coast we have solutions for people with physical disabilities. It's your life, your decision. We will work with you from concept to delivery and support. We are constantly looking for new innovative ideas, so check back often for new products!
For vehicles, Driver side and passenger side truck modification wheelchair lifts. We keep safety and comfort in mind with our ISO crash tested removable back rest.
For your home, we offer solutions that can keep your loved ones at home longer, are versatile, help you be independent without costly renovations, are inconspicuous and pleasing to the eye. Our products can enable you to transfer with just one caregiver, reduce the overall number of transfers and help eliminate back injuries.
We demonstrate integrity, honesty and are dedicated to providing only the best quality options for mobility solutions.
Wolfe Mobility designs and install full truck and SUV level accessibility solutions with DMS Truck Lifts. Additional vehicle adaptations are available within the Adapt Solutions and Sure Grip Hand Controls product lines.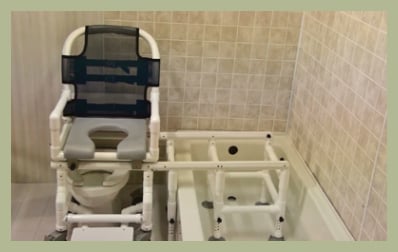 Outstanding mobility solutions are provided by the BodyUp Transfer System–whether for inside the home or moving into a vehicle–and the ICC Bath to Beach line. Building accessibility over steps and stairways is made easy with ConvertaStep.
---
Our Certifications and Associations