ConvertaStep
ConvertaStep Lift   -   COMING SOON!
The lift is inconspicuous to the eye, and most onlookers would be unaware of its presence, unlike traditional large, bulky ramp systems. The small, cost-effective lift comes in 3 sizes that are adjustable to span one and up to five steps, and can be painted to blend with any house style and exterior.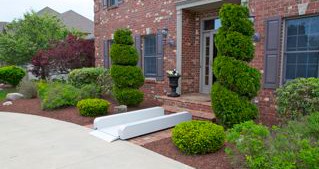 Wolfe Mobility is the exclusive Canadian distributor of ConvertaStep products in Canada. ConvertaStep offers revolutionary access products for both residences and businesses. The lifts and ramps offer flexibility and are built  to last. ConvertaStep works easily with entries of one or up to five steps, and is designed to blend in easily with any home or business exterior.
ConvertaStep's lifts and ramps are safe, reliable and cost-effective. Steve Kitchin, founder of ConvertaStep and a quadriplegic since 1999 said "I did not want a 40 foot ramp to my front door. They are incredibly expensive and I do not like the way they look. Our lift provides access for wheelchairs, scooters, walkers or anyone that has difficulty climbing stairs…and it can be installed for a fraction of the cost."